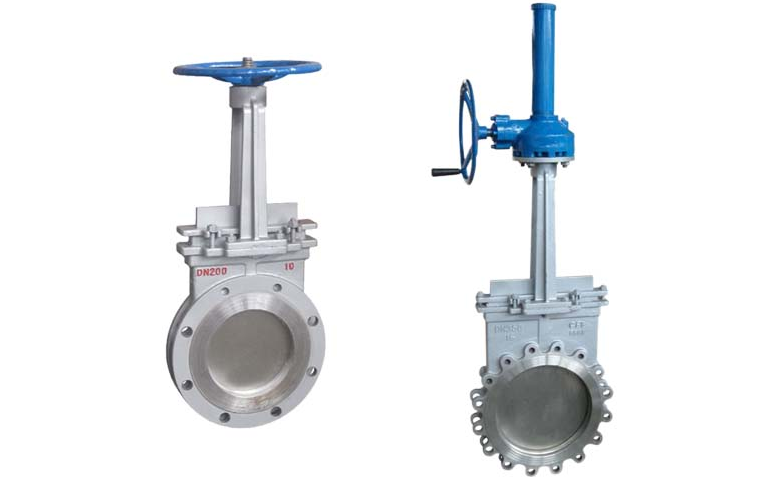 Are you tired of dealing with clogs and blockages in your pipeline system? Look no further than the bi-directional knife gate valve! Bi-direction knife gate valve powerful piece of equipment is designed to handle tough materials and can be used in a variety of industries, from sewage treatment plants to mining operations. In this blog post, we will guide you through the basics of bi-directional knife gate valves, including how they work, their benefits, and how to choose the right one for your specific needs. Get ready to unlock the power of bi-directional knife gate valves!
What are bi-direction knife gate valve?
Knife gate valves are a type of valve used to control the flow of fluids in pipelines. They get their name from the sharp edge on the bottom of the gate that cuts through materials as it moves, allowing for precise and efficient operation.
The gate is typically made of stainless steel or another durable material to withstand high pressure and abrasive materials. The valve can be operated manually with a handwheel or automated with an electric or pneumatic actuator.
These valves are commonly used in industries such as mining, pulp and paper, wastewater treatment, and chemical processing. They excel at handling dense slurries, viscous liquids, and solids because they create a tight seal that prevents leakage.
There are different types of bi-direction knife gate valve available depending on your specific needs. Bi-directional knife gate valves allow for flow in either direction while unidirectional knife gate valves only allow flow in one direction. Some models also feature self-cleaning capabilities to prevent clogging.
Knife gate valves offer reliable performance and cost-effective solutions for controlling fluid flows in various applications.
How do bi-direction knife gate valve work?
Knife gate valves are designed to control the flow of fluids in pipelines. They work by using a sharp-edged blade to cut through thick and heavy materials, such as slurries, powders or solids, that may be present in the fluid being transported. The knife gate valve is specifically designed for applications where conventional valves cannot handle these types of materials effectively.
The valve works by utilizing a sliding gate that moves across the path of the fluid flow within a pipe. When fully opened, the knife gate valve allows for unobstructed flow; when closed it creates an effective seal against leaking. Once opened again, any debris is forced out from between the sealing surfaces ensuring full closure.
Knife gate valves come in two main types: uni-directional and bi-directional. Uni-directional designs allow for flow only in one direction while bi-directional models can manage both forward and reverse flows depending on their design specifications.
Knife gate valves provide simple yet highly efficient solutions to industries dealing with challenging liquids or semi-solids material handling requirements by allowing them better process efficiency and lower downtime due to clogging or blockages often encountered with traditional valve setups.
The benefits of using knife gate valves
Knife gate valves offer several benefits that make them an excellent choice for various industrial applications. One of the main advantages is their ability to cut through thick and heavy liquids with ease, preventing clogging or blockages in pipelines.
Another benefit is their compact design, which makes them suitable for use in tight spaces where traditional valves may not fit. Knife gate valves are also easy to install and operate, making them a cost-effective solution for many industries.
In addition, knife gate valves have a bi-directional flow feature that allows fluid to flow in two directions without affecting the valve's performance. This feature enables operators to save time and money by reducing the need for additional piping systems or directional control devices.
Furthermore, these types of valves are highly customizable and can be made from different materials depending on the application requirements. For instance, stainless steel knife gate valves are ideal for corrosive environments while cast iron ones are perfect for handling abrasive fluids.
Using bbi-direction knife gate valve offers numerous benefits including efficiency, reliability, and durability. With its unique features and capabilities such as cutting fluids with high consistency, it's no wonder why they're essential tools across several industries today!
The different types of knife gate valves
Knife gate valves come in different types, each designed to meet specific needs and requirements. One type is the uni-directional knife gate valve, which allows flow in only one direction. This valve is ideal for processes that require unidirectional flow control.
Another type of knife gate valve is the bi-directional knife gate valve, which allows flow in both directions. It's perfect for applications where fluid can travel back and forth or when there's a need to divert flow from one line to another.
The full lug style knife gate valve has lugs on both sides that allow easy installation between flanges. Meanwhile, the semi-lug style has lugs on just one side, making it easier to install into existing pipelines.
For abrasive media applications, the abrasion-resistant knife gate valves are made with materials such as ceramic coatings or hardened metal alloys. These materials help protect against premature wear and tear due to abrasive substances flowing through them.
Some manufacturers offer custom-made knife gate valves designed based on unique specifications provided by their clients. These bespoke options ensure maximum efficiency and longevity while meeting specific industry demands.
Choosing the right type of bi-directional knife gate valve depends on various factors such as application requirements, pressure ratings, size range needed, etc., so always consult an expert before making any decisions concerning your pipeline system!
How to choose the right knife gate valve for your needs
When choosing a bi-directional knife gate valve, it's essential to consider the application and conditions where it will be used. Here are some factors to keep in mind when selecting the right knife gate valve for your needs.
Firstly, consider the material of construction. The choice of material depends on the type of fluid that will be flowing through the pipeline. For instance, if you're working with abrasive fluids such as sand or slurry, opt for valves made out of hard-wearing materials like stainless steel.
Secondly, check whether the manual or automatic operation is required based on maintenance requirements and automation level needed. Manual knives are usually less costly than automated ones but may require more frequent monitoring and handling.
Thirdly, take note of pressure ratings and temperature limitations to ensure that selected valves can handle specific maximums safely without failure.
Bear in mind any applicable standards or certifications relevant to your industry or country since not all knife gates have these features by default but may potentially impact operational efficiency and overall safety measures implemented at the site.
In summary, selecting an appropriate bi-directional knife gate valve requires careful consideration of several critical factors involving material compatibility; operational requirements including manual vs automatic mode; temperature tolerance levels; performance limits concerning pressure ratings' certification compliance while ensuring cost-effectiveness is kept intact during the selection process
Conclusion
To sum up, bi-directional knife gate valves are a highly efficient and cost-effective solution for various industrial applications that require reliable shut-off capabilities. With their simple design and operation, they can effectively control the flow of abrasive or viscous fluids in both directions, even under high-pressure conditions.
By choosing the right type of bi-directional knife gate valve for your specific needs, you can ensure maximum performance and longevity while minimizing maintenance costs and downtime. Whether you need to isolate process flows in wastewater treatment plants, mining operations, or pulp & paper mills, there is a suitable knife gate valve out there for you.
In short, if you're looking for an effective way to handle challenging fluid handling tasks with ease and efficiency - look no further than bi-directional knife gate valves!